Call of Duty Mobile va haciendo poco a poco. Sin prisa, pero sin pausa, este hermano menor de Call of Duty Warzone va abriéndose paso lanzando sin parar nuevas temporadas, más contenido y buscando temáticas únicas para que los jugadores siempre queden totalmente sorprendidos. Ahora tocará sumergirse en las profundidades de la mano de Ghost y su peligroso perro para continuar arrasando en las partidas.
En este artículo os dejaremos con la hoja de ruta de la temporada 5, algunas de sus novedades más importantes y el tráiler del pase de batalla. Además, también indicaremos la fecha de lanzamiento y, grosso modo, encontraréis todo lo imprescindible para que no perdáis detalle del contenido.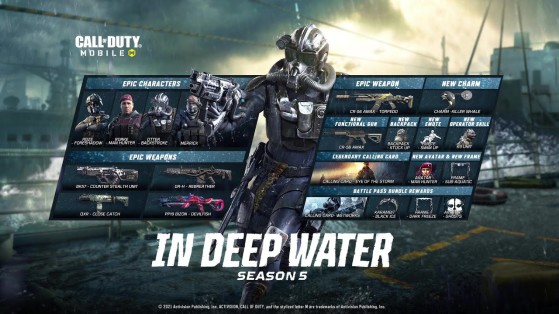 Novedades más destacados de la Temporada 5
Operadores épicos
Roze Foreshadow

Rorke Man Hunter

Otter Backstroke

Merrick
Armas épicas
BK57 - Counter Stealth Unit

DR-H Rebreather

QXR - Close Catch

PP19 Bizon - Devilfish

CR-56 AMAX Torpedo
Otras novedades
Amuleto - Killer Whale

Nuevo emote Swim Up

Nueva habilidad de operador - K9 Unit

¡Y muchas otros ítems, objetos y demás que estarán disponibles con el nuevo pase de batalla de la temporada 5!
¡Llegan mapas de Modern Warfare!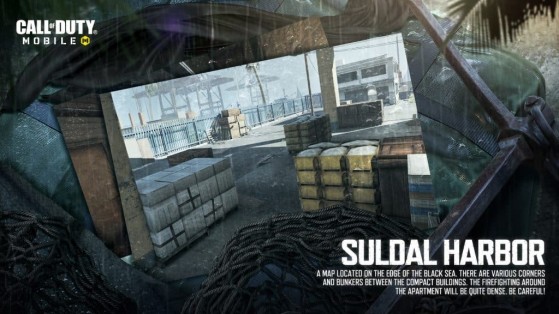 Los mapas de Modern Warfare, a la larga, están demostrando que no eran tan malos y que en realidad tenían mucho jugo. Digamos que en el momento en el que llegaban a esta entrega de sobremesa, los jugadores no los valoraban los suficiente, pero ahora sí que están floreciendo. La temporada 5 de Call of Duty Mobile incorporará tres escenarios de dicho título: Suldal Harbor, Docks, y Aniyah Incursion. Tres mapas que si bien es cierto que no son los mejores, ni mucho menos, encajan de maravilla con la actual season y, desde luego, siempre viene bien tener más rotación para los jugadores.
Fecha de lanzamiento
La temporada 5 de Call of Duty Mobile estará disponible el próximo 28 de junio. Vamos, en apenas tres días ya tenemos nueva season con todo este contenido y con mucho más que, sin duda, Activision tiene reservado para más adelante, como viene siendo habitual en sus videojuegos.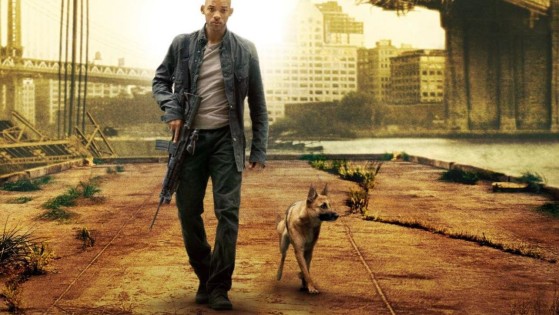 moviles
Activision se está poniendo de lo más misteriosa con los nuevos teasers de la temporada 5 de Call of Duty Mobile. La compañía ya no solo está usando esta estrategia en Warzone, siguiendo los pasos de Fortnite, porque también lo hace en su entrega para móviles.